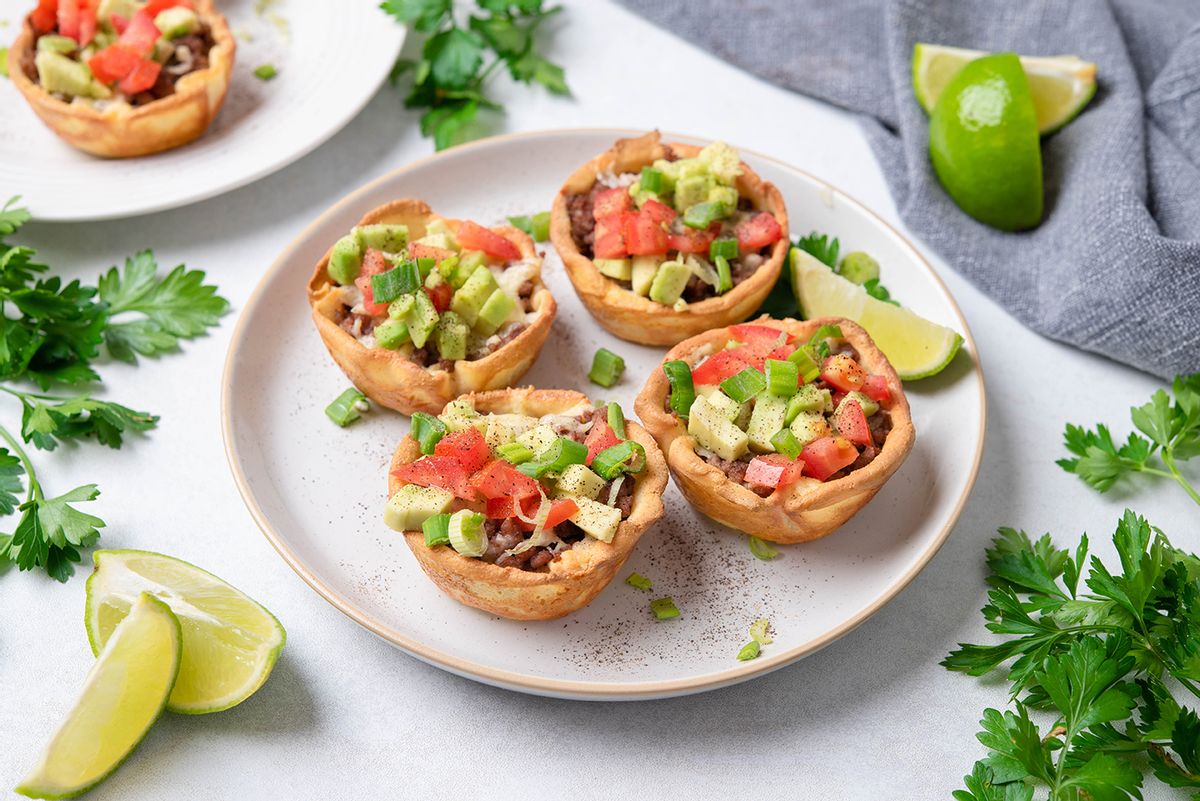 #1 Low Carb & Keto Diet App Since 2010
Track macros, calories, and access top Keto recipes.
20 min

25 min

45 min
Best Low-Carb Taco Cups
Delicious low-carb taco cups are an addictive recipe you can serve any time of the day. The recipe yields 10 taco cups (2 per serving) – enough to feed the entire family! Of course, you can adjust the recipe to feed more people. Taco cups are prepared with classic fathead dough, filled with delicious taco-flavored meat, and then served with chopped onions, avocadoes, and tomatoes. Feel free to adjust the amount of taco seasoning according to your taste; just remember to log any extra ingredients. These fantastic taco cups can be served warm or cold with a dollop of Greek yogurt. What an excellent addition to your low-carb recipes!
How do you substitute ground beef?
You can easily substitute the ground beef with the same amount of ground pork (or a combination of two). Chicken or turkey breast is another great idea to substitute ground beef. You can use minced or chopped breast.
How do you store the leftovers?
Store the leftovers in airtight containers and refrigerate for a few days. Add the toppings when ready to serve.
Can I freeze these taco cups?
Absolutely! These taco cups freeze well. Gently thaw them in the oven when ready to serve. Add the toppings before serving.
Net Carbs

6.4 g

Fiber

4.3 g

Total Carbs

10.8 g

Protein

45.6 g

Fats

45.3 g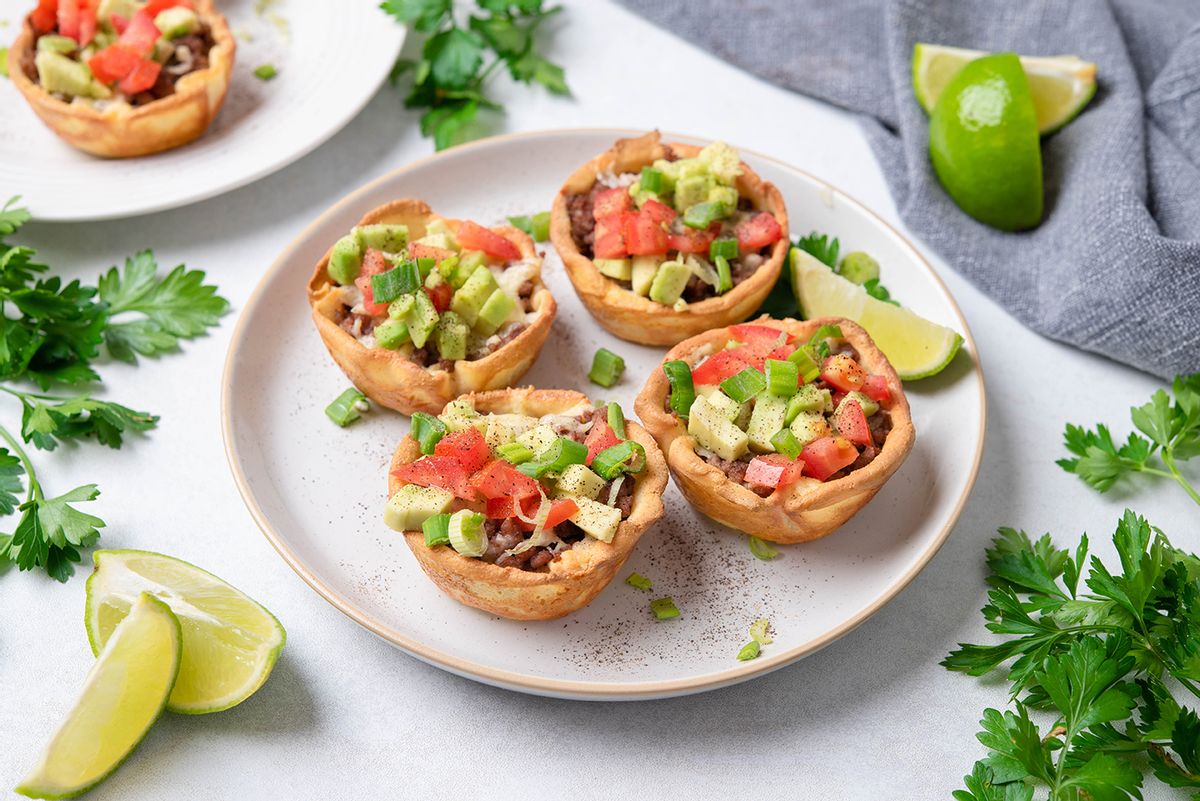 #1 Low Carb & Keto Diet App Since 2010
Track macros, calories, and access top Keto recipes.
Ingredients
Extra virgin olive oil

1 tbsp

Taco seasoning mix

1 tbsp

Mozzarella cheese, whole milk

1.5 cup, shredded

Cheddar cheese, natural

100 g

Tomato

1.5 medium - 2 3/5" diameter
Heat the olive oil in a large pan over medium heat. Add the ground beef and taco seasoning. Mix well and cook for 10-12 minutes, stirring occasionally. When done, remove from the heat and drain the fat.

Shred the mozzarella cheese. Add the cream cheese and mozzarella to a microwave-safe bowl. Microwave until completely melted.

Transfer the melted cheese to a food processor. Add the almond flour and egg. Process until fully incorporated.

Transfer the dough onto a piece of parchment paper. If the dough is too sticky, dust it with some almond flour. Roll out until approximately 0.3cm (1/8 inch) thin.

Using a biscuit cutter, carefully cut into 10 circles. If necessary, gently press each circle with your hand to flatten. Set aside.

Preheat the oven to 200°C (400°C). Shred the cheddar cheese. Lightly press the dough into a silicone or greased muffin tin. Spoon the cooked meat into each cup and top with shredded cheddar. Bake for 15 minutes.

Peel and chop the avocado. Finely chop the tomato. Finely chop the onions. Top each taco cup with avocado, spring onions, and tomatoes. Optionally, garnish with freshly chopped parsley or cilantro. Enjoy!