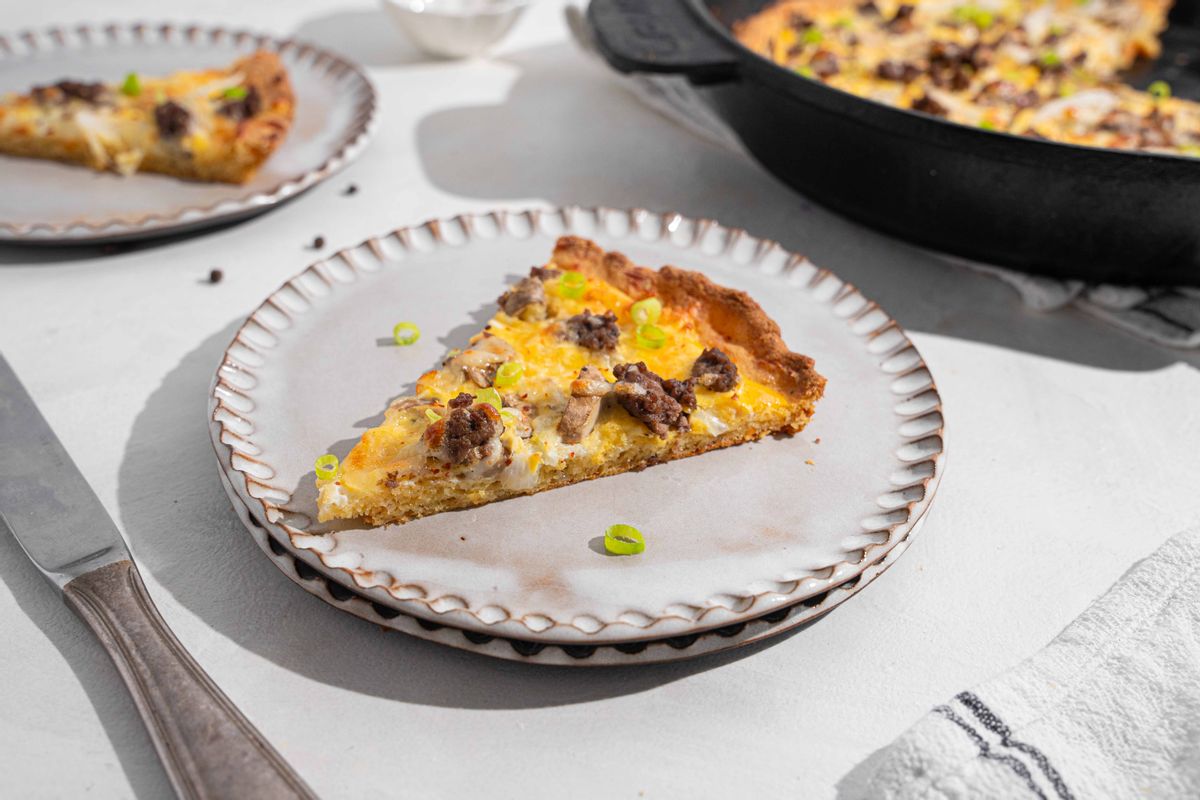 #1 Low Carb & Keto Diet App Since 2010
Track macros, calories, and access top Keto recipes.
20 min

20 min

40 min
Keto Breakfast Pizza
Everybody loves pizza, no doubt about that! But imagine your family's reaction when you serve pizza... for breakfast. This breakfast-appropriate pie is a quick and delicious option for the weekends and holidays. You can customize it to your liking by adding your preferred toppings. Best of all, this recipe is perfect for meal prep and freezes well.
Can you prepare this family-friendly breakfast ahead of time?
Absolutely! To cut your prep time in the morning, you can make the dough up to 3 days in advance and keep it in the fridge. You can also create a big batch and freeze it for a month. Having your dough ready ahead of time cuts the prep time to 15 minutes.
How to store this pizza?
If you've got any leftovers, you can store them in an airtight container in the fridge for up to 3 days. When ready to eat, reheat in the microwave or in a preheated oven. You can also freeze any leftovers by wrapping each slice individually with plastic wrap. Allow to thaw entirely, then reheat.
How can you customize this Keto breakfast pizza?
The best family-friendly recipes are ones that can be personalized. While the dough can't be customized, you can flavor it differently by replacing the oregano with dried basil, garlic granules, or dried rosemary. For the toppings, you can omit the sausage for a vegetarian pizza option or swap it for any other meat of your choice. Some great pizza toppings are pepperoni, ham, bacon, grilled chicken, deli meat, or a mixture of them. You can also swap the mozzarella cheese for cheddar cheese, Mexican blend, provolone, or parmesan. For the veggies, you can add peppers, cherry tomatoes, olives, etc.!
Net Carbs

2.6 g

Fiber

0.9 g

Total Carbs

3.6 g

Protein

10.7 g

Fats

16.5 g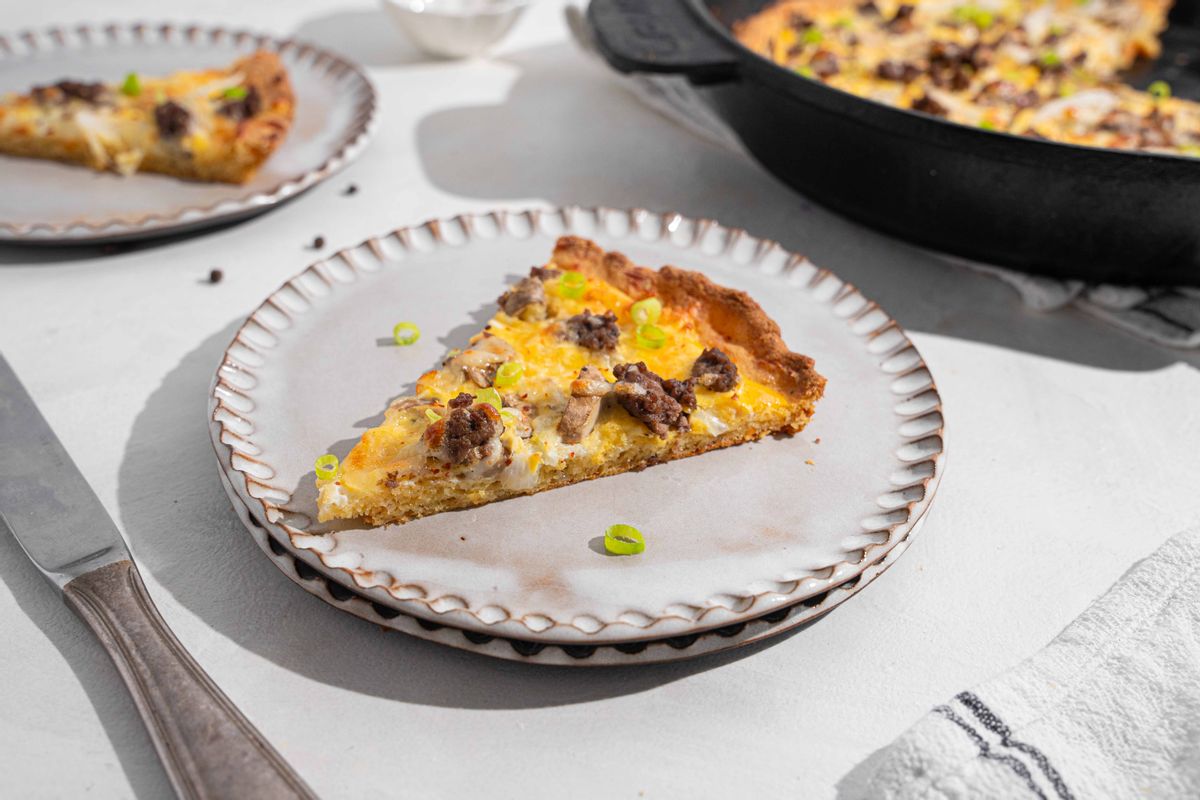 #1 Low Carb & Keto Diet App Since 2010
Track macros, calories, and access top Keto recipes.
Ingredients
Mozzarella cheese

1.5 cup, shredded

Sausage

3 medium link - breakfast size
Preheat your oven to 400F/200C and grease a skillet. Combine the almond flour, baking powder, salt, and oregano together in a bowl. Make sure any lumps are broken up, and set it aside.

Combine 1 cup of mozzarella cheese and cream cheese in a microwave-safe bowl. Heat the cheeses for a total of 60 seconds, in 20-second intervals, stirring between each one. Mix 1 egg into the cheese mixture vigorously. The mixture will separate first and then come together.

Finally, stir the dry ingredients into your wet ingredients. The final dough will be sticky and pasty. Spoon the dough into plastic wrap, and use the spoon to flatten the dough into a disk for quick setting. Give the top of the dough a light sprinkle of almond flour before wrapping, and rest in the fridge for 5 minutes.

Transfer the dough to the skillet and push it until the edges, creating a slightly raised crust. Poke holes using a fork to avoid bubbles and bake for 7-10 minutes.

Meanwhile, cook the sausage link in a nonstick pan, breaking them into chunks. Thinly slice the mushrooms and onion. Crack 2 eggs in a bowl and beat them.

Take the parbaked crust out of the oven and pour the beaten eggs in the center of the crust. Spread it using a spoon. Top with onions, mushrooms, cooked sausage, and ½ cup mozzarella cheese.

Bake for 10-15 minutes or until set and golden. Thinly slice the scallion and use it as garnish. Cut into 8 slices and serve!