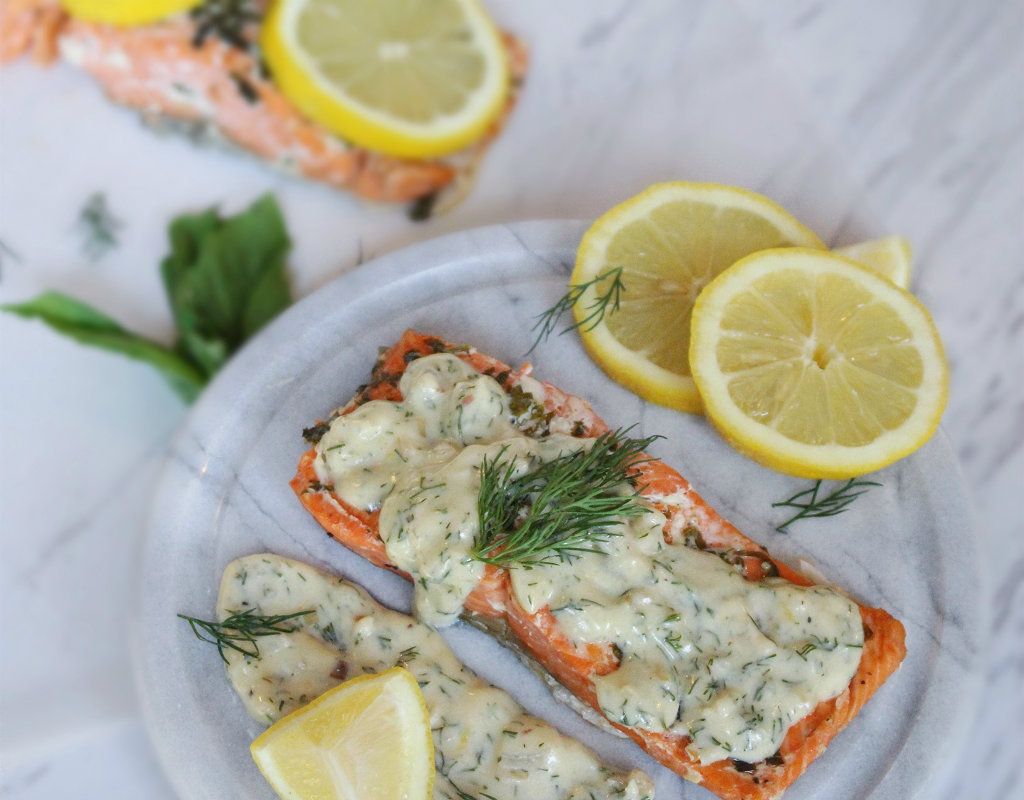 #1 Low Carb & Keto Diet App Since 2010
Track macros, calories, and access top Keto recipes.
10 min

40 min

50 min
Low Carb Salmon Fillets
Whether the weather is hot or cold out, a fresh piece of fish can hit the spot any day. Pair it with a tangy, creamy, and citrusy sauce, and you have yourself a winning meal. This dish is loaded with fresh herbs, which is really the key to taking a meal from "blah" to "yeah!" Salmon is wonderfully high in protein and healthy fats. Even the Creamy Dill Sauce is low on carbs and high on fat. You will reach for this Keto fish recipe again and again. You can keep your plate light for lunch or pair your salmon fillet with a savory side at dinner. Either way, this dish is a great low carb dinner recipe.
Is salmon Keto-friendly?
Yes, salmon is wonderfully Keto-friendly due to its high protein and high-fat content. It is a great source for omega-3 fatty acids. It is important to include fish like salmon at least 3 times a week into a Keto or Low Carb diet.
What are side dishes to serve with salmon?
A shaved Brussels sprouts salad with a fresh lemon dressing and toasted sunflower seeds is a great side dish. Also, any low carb vegetables like kale, baby spinach, and green beans are all great sides as well.
What are other variations that I can try?
Chopped spicy pickled peppers would be a great addition to the creamy dill sauce. You can make it more Indian-style by adding curry powder to the sauce as well.
Net Carbs

6.7 g

Fiber

1 g

Total Carbs

7.7 g

Protein

40.1 g

Fats

69.7 g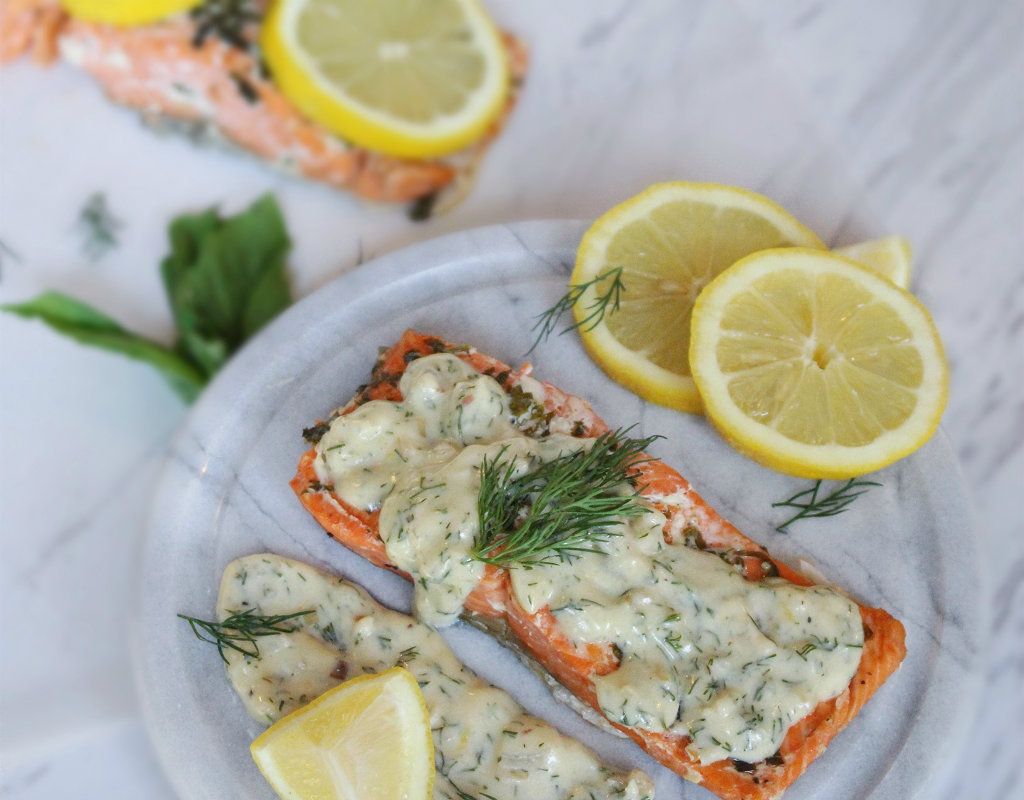 #1 Low Carb & Keto Diet App Since 2010
Track macros, calories, and access top Keto recipes.
Ingredients
Raw Salmon

12 oz, boneless, raw

Greek Yogurt

½ tablespoon
Preheat your oven to 375 degrees. Lay your salmon fillets on a clean, flat surface. Use your fingers to gently rub the olive oil evenly into both fillets.

Finely chop the parsley and basil. Evenly distribute the first amounts of salt, pepper, parsley, and basil over both fillets, and gently press the seasonings down so they adhere to the salmon.

Lay out a flat piece of tin foil about 8 inches long and give it a light coat of non-stick spray. Place both pieces of salmon, skin side down, in the center of the foil. Arrange two slices of lemon on the top of each fillet and seal the foil packet securely.

Place the foil packet in the center of an oven-safe baking dish. Bake the fish on a center rack for approx. 40 minutes, or until the salmon is flaky and done to your liking.

Meanwhile begin the Creamy Dill Sauce by heating the butter in a medium sized shallow pan on medium-low heat.

Finely dice the onion, and add them to the pan. Cover the pan and cook for approx. 3 minutes or until the onions are soft and mostly translucent. A little browning is okay.

Mince and stir in the garlic, and let the ingredients cook for about 20 seconds so the garlic becomes fragrant. Pour in the heavy cream slowly, and stir the ingredients.

Return the lid to the pan, and let the heavy cream come to a simmer. Stir in the pepper and salt. Finely chop the dill, zest the lemon peel, and add those to the pan as well.

Let the sauce simmer on low heat, uncovered, for 3-4 minutes. Remove the pan from the heat, and stir in the Greek yogurt.

Serve the baked salmon with additional lemon slices, freshly chopped dill, and your creamy dill sauce. Enjoy!