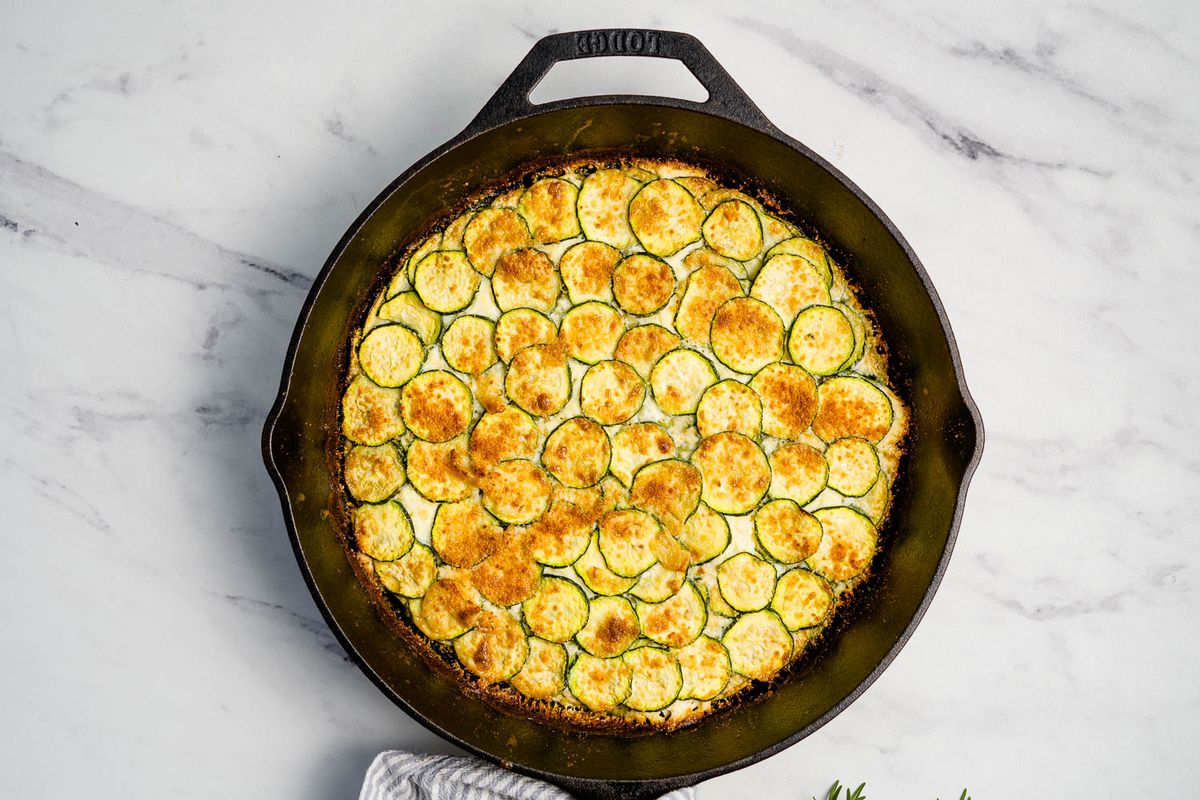 #1 Low Carb & Keto Diet App Since 2010
Track macros, calories, and access top Keto recipes.
20 min

40 min

1 h 0 min
Keto Skillet Zucchini Gratin
Need an easy but delicious and straightforward Keto vegetable recipe? Look no further than this Keto Skillet Zucchini Gratin. It is simple to put together, but the presentation is stunning! Heavy cream is simmered with smashed garlic cloves and a fresh sprig of rosemary, drizzled into the layers of zucchini rounds and cotija cheese and creamy ricotta cheese.
Do I have to use rosemary?
No, feel free to use other woody herb stems like thyme or sage. A combination of them would be delicious too. Get creative!
What other kinds of cheese can I use instead of cotija?
Feel free to use parmesan cheese or any other hard cheese. If you want to use a melty cheese, feel free to substitute it with shredded mozzarella.
I don't have a mandolin. What else can I use?
If you do not have a mandolin, please use a sharp knife and good knife skills! Do not worry about them being too perfect; the salting step will begin to soften them, so they should all cook around the same rate.
Serving suggestion
Feel free to serve this dish with a meat dish like Low Carb Creamy Balsamic Chicken with Sundried Tomatoes https://www.carbmanager.com/recipe/low-carb-creamy-balsamic-chicken-with-sundried-tomatoes.
*1 tablespoon rosemary = 1 sprig 6" long
Net Carbs

5.3 g

Fiber

0.9 g

Total Carbs

6.3 g

Protein

3.1 g

Fats

9.9 g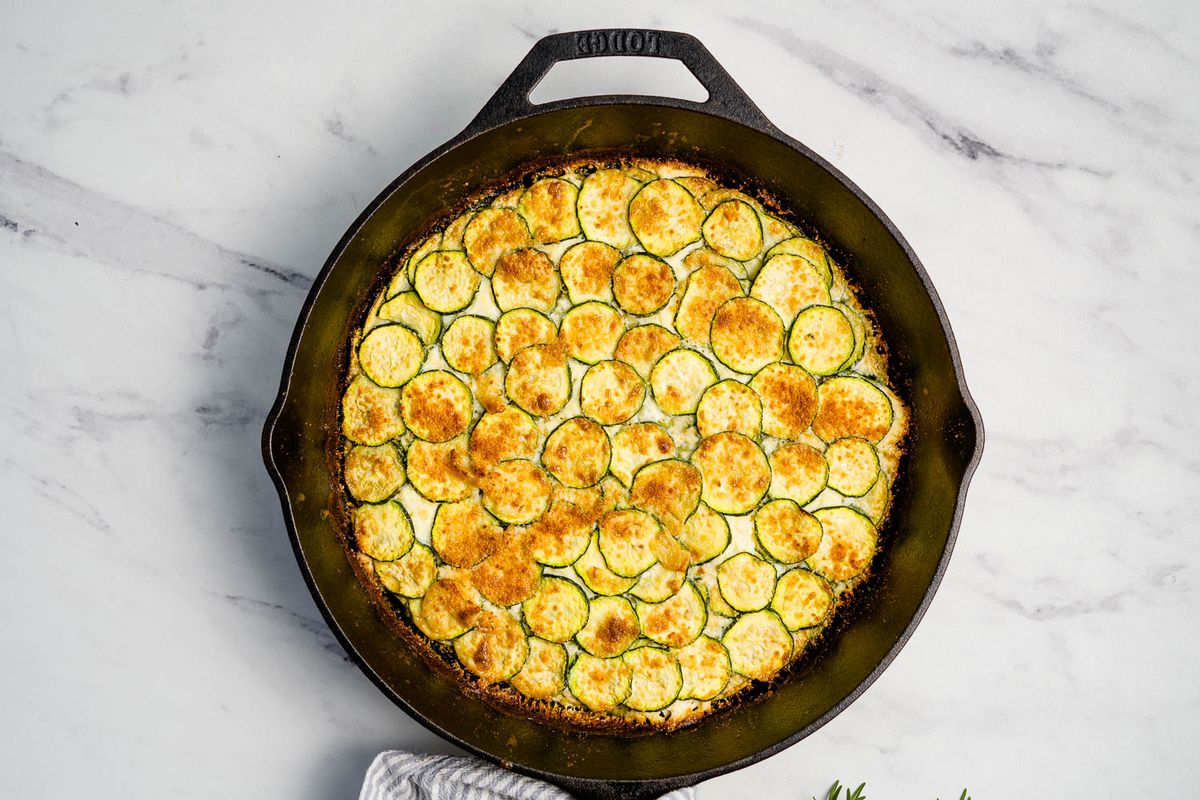 #1 Low Carb & Keto Diet App Since 2010
Track macros, calories, and access top Keto recipes.
Ingredients
Coarse Kosher Salt by Morton

½ tsp

Whipped Heavy Cream Sweetened & Ultra Pasturized by Land O Lakes

3 ounce

Rosemary, Fresh

1 tablespoon

Salt, Ancient Fine Real Sea Salt by Redmond

⅛ tsp

Queso Cotija Cheese

5 tablespoon
Preheat an oven to 400 F. Slice the ends of the zucchini off, then using a sharp mandolin, slice all the zucchini into ¼" thick slices. Place them into a medium-sized colander and sprinkle them with ½ tsp kosher salt. Mix them with your hands, and then drain over the sink or a bowl for 30 minutes. This seasons the zucchini and also allows the water to release from them to prevent a soggy gratin.

In a small saute pan, add the salted butter and allow it to melt.

Add in the 4 smashed garlic cloves and let it simmer in the butter for 30 seconds. Add in the heavy cream and sprig of rosemary. Allow the rosemary to simmer in the cream for about 20-30 seconds, remove the pan from the heat and set it aside.

In a large 11" cast iron skillet or other oven-safe skillet, line the pan with the rings of zucchini around the rim of the pan, working your way into the center of the pan. Drizzle the first layer of zucchini with 1/3 of the cream mixture.

Then dollop 1/2 of the ricotta on top and sprinkle ⅓ of the cotija on top. Repeat this process two more times ending with a layer of cotija cheese on top.

Bake the gratin for 35-40 minutes until the top is completely golden brown and the cream is bubbling.