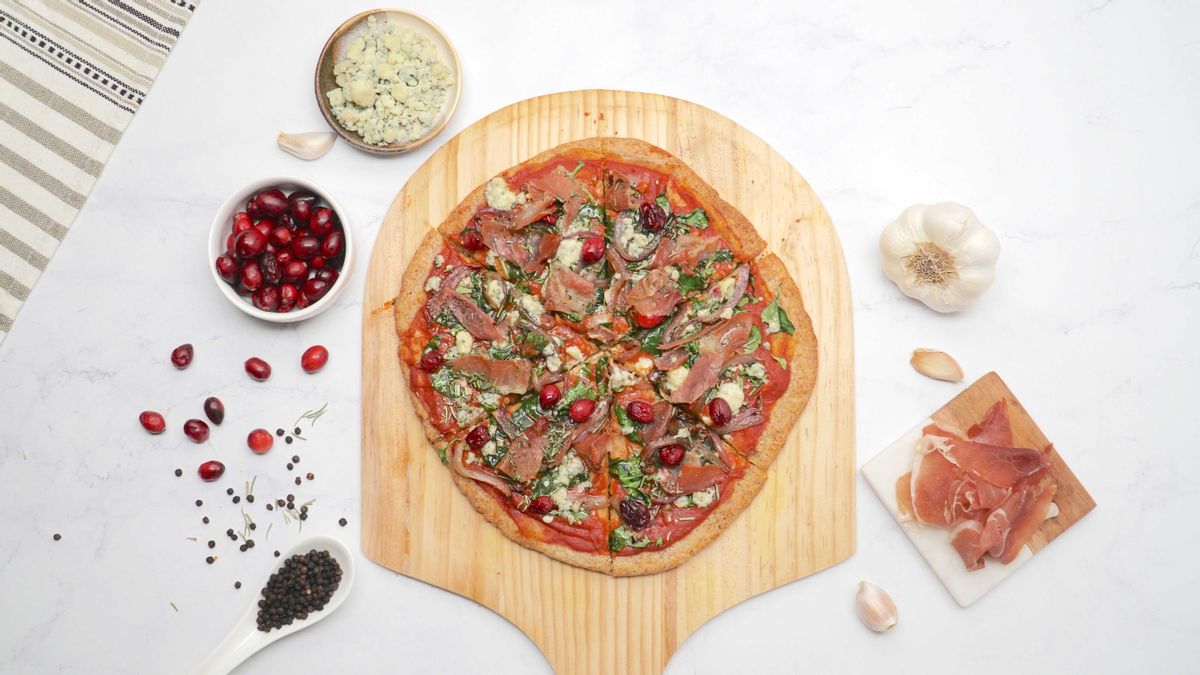 #1 Low Carb & Keto Diet App Since 2010
Track macros, calories, and access top Keto recipes.
25 min

18 min

43 min
Low Carb Holiday Pizza
This festive keto pizza is the ultimate treat for sharing. The base is formed of a fathead dough and the pizza is topped with rich and aromatic seasonal ingredients.
The pizza toppings can easily be adapted to suit and adjusted to make this a vegetarian meal.
Net Carbs

6.5 g

Fiber

2.7 g

Total Carbs

9.2 g

Protein

26.6 g

Fats

47.9 g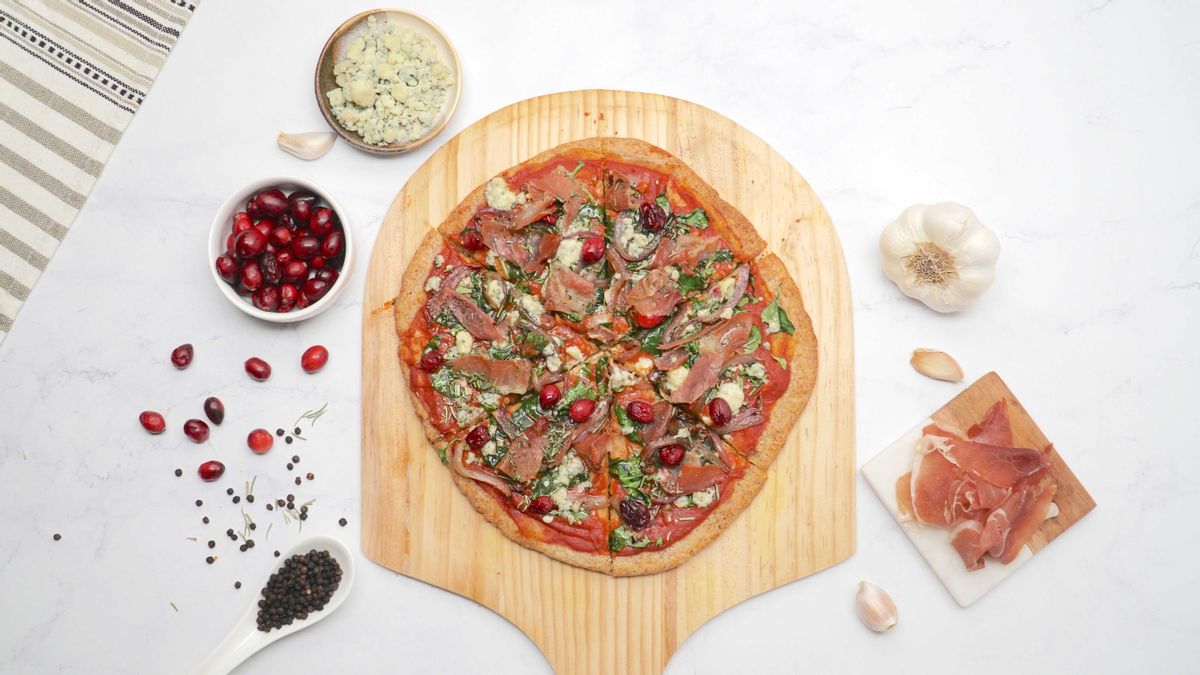 #1 Low Carb & Keto Diet App Since 2010
Track macros, calories, and access top Keto recipes.
Ingredients
Spinach

1 cup, cut pieces

Mozzarella Cheese

1-¾ cup, grated

Unsalted Butter

1 tablespoon

Food Cupboard Home Baking Almonds Ground by Sainsbury's

5 ounce

Cream Cheese Spread

1 tablespoon

Passata Tomato Puree by Mutti

2-½ ounce

Red Onion

¼ medium - 2 1/2" diameter

Cranberries, Fresh

¼ cup, whole pieces

Salt, Sea Salt

¼ teaspoon
Add the grated mozzarella to a heat proof bowl with the butter over a double boiler, stirring continuously until the mozzarella and butter have melted together.

Transfer the melted cheese and butter mixture to a food processor along with 1 cup of the ground almonds and the cream cheese. Blend well until thoroughly combined.

When the mixture is cool, add the egg to the food processor. Blend until well combined and smooth.

Add the remaining ground almonds to the food processor and blend until you have a sticky dough.

Transfer the dough into a clean bowl and allow to rest for 10 minutes before rolling and covering in plastic wrap. Transfer to the freezer for 15 minutes to firm.

Whilst the base is chilling, mince the garlic and add to a small pan along with the passata. Simmer for 2-3 minutes until the garlic is tender. Set aside.

Finely slice the onion and add to a small pan with one tablespoon of olive oil and the balsamic vinegar. Fry gently for 5 minutes until the onion is tender. Set aside.

Preheat the oven to 380 degrees Fahrenheit and line a large shallow oven tray with baking paper. Remove the dough from the freezer and place between two sheets of plastic wrap. Roll to an even thickness creating a circular base, the size of a large dinner plate.

Transfer to the oven to bake for 10 minutes, until lightly golden. Remove the base from the oven and spread over the tomato sauce.

Scatter over the spinach and arrange the onions over the pizza and crumble over the blue cheese.

Tear the prosciutto and scatter over the pizza. Add the cranberries and finely chopped rosemary. Season the pizza with a little salt and pepper and drizzle with the remaining olive oil.

Transfer to the oven to bake for a further 10 minutes until cooked through, the cheese is melted and the ham is crisp.