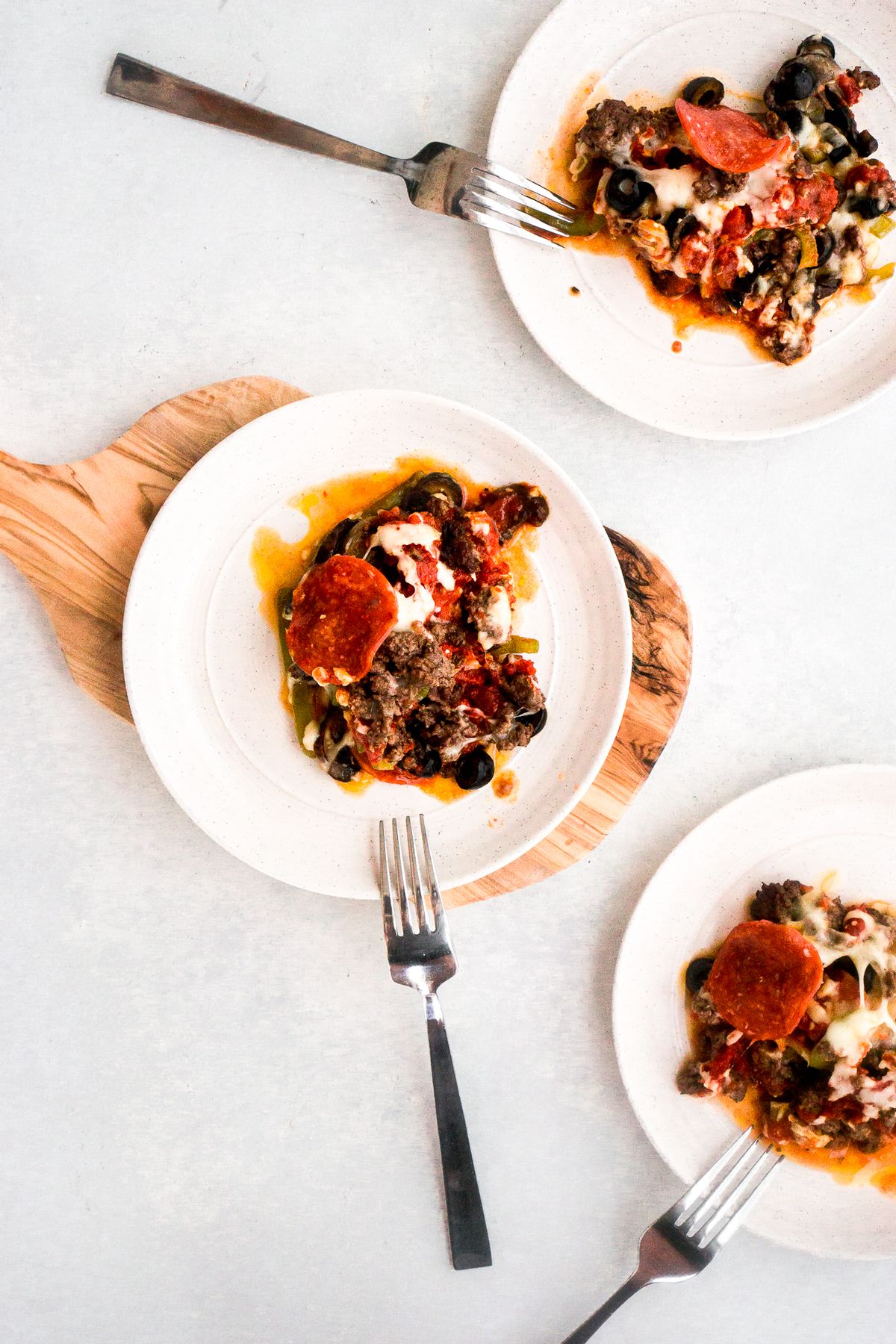 #1 Low Carb & Keto Diet App Since 2010
Track macros, calories, and access top Keto recipes.
30 min

4 h 0 min

4 h 30 min
Keto Hamburger Pepperoni Mushroom Pepper Olive Crockpot Pizza
Make ahead meals are made even better when you have this delicious crockpot pizza to look forward to. This crockpot pizza is layered with creamy, melty mozzarella cheese, pizza sauce, browned grass-fed hamburger, green bell pepper, onions, portobello mushrooms and sliced black olives. Simply layer all the ingredients and top with the final layer of cheese and let it heat away throughout the day and it will be ready by dinnertime. Be sure to find a no added sugar pizza sauce for this recipe.
What can I serve with this dish?
Avocado is a great side dish for this dish as well as any Keto-friendly vegetable like kale or asparagus. Overall, that will make a very filling meal.
What other ingredients can I add to this dish?
Any Keto-friendly pizza topping will work well here like cured meats (think salami, calabrese, peppered salami, crumbled sausage, bacon) as well as multiple different types of shredded cheese (Chihuahua cheese for Mexican pizza, pecorino and more ). Other goodies like spinach, artichoke hearts, red pepper flakes, roasted red peppers and dried herbs just to name a few.
Can I cook this without a crockpot?
Yes, you can place all the layered ingredients into an ovenproof dish with a lid and bake at 350 F instead. It will take less time and since the ingredients are mostly cooked.
Net Carbs

4.3 g

Fiber

1.2 g

Total Carbs

5.7 g

Protein

17.4 g

Fats

23 g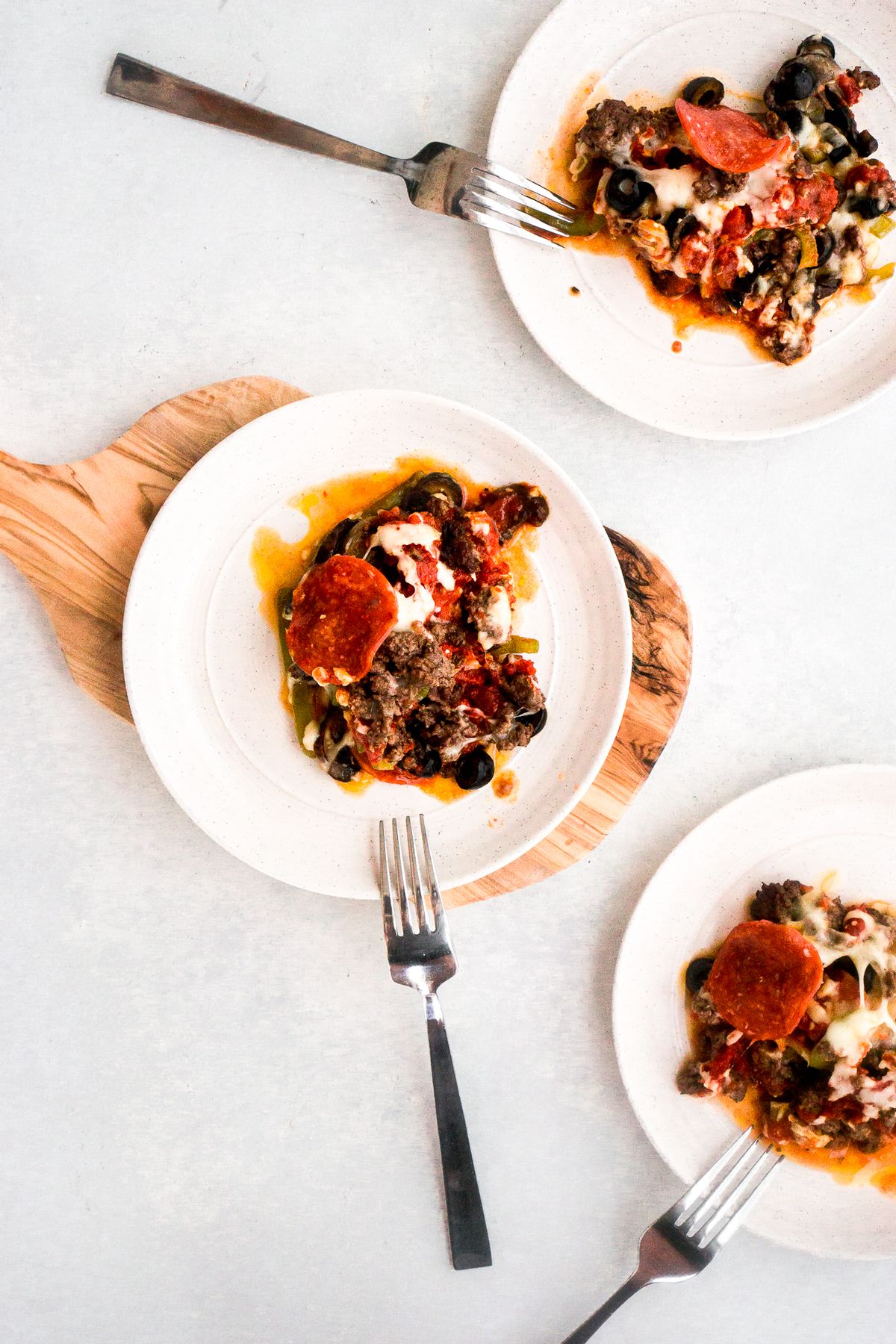 #1 Low Carb & Keto Diet App Since 2010
Track macros, calories, and access top Keto recipes.
Ingredients
Green Bell Pepper

¾ large - 3" diameter x 3 3/4"

Coarse Kosher Salt by Morton

¼ tsp

Mushrooms Portobello by Melissa's

5 medium mushrooms

Beef Ground Grass Fed Raw

1 pound

Coarse Kosher Salt by Morton

¼ tsp

Black Olives

1 cup, sliced

Mozzarella Cheese

2-½ cup, shredded

Pepperoni

32 slice - each 0.1 ounce
Slice onions into a thin and short julienne. Slice green bell peppers into thin strips and also thinly slice the mushrooms.

Heat a large, non-stick skillet over medium-high heat until very hot. Add 2 tbsp oil, swirl the pan then add the white onions and mushrooms. Cook until onions and mushrooms are starting to turn brown about 3-4 minutes. Add ¼ tsp kosher salt and stir well.

Add the green bell pepper and briefly cook, about 1 minute. Set aside veggies in a bowl.

Add 1 tbsp oil, swirl the pan and then add the hamburger. Cook the meat until it is fully cooked for about 10 minutes. Turn off the heat.

In the bottom of a 4 quart crockpot spread ⅓ cup of pizza sauce.

Top with ¼ of the cooked hamburger meat and spread evenly.

Next top with ½ cup of shredded mozzarella cheese.

Add ¼ of the cooked mushrooms, bell peppers and onions.

Next, evenly distribute 8 pepperoni slices for the next layer.

Add ¼ of the sliced black olives.

Repeat this process 3 more times ending in a cheese layer with some pepperoni and hamburger meat.

Set the crockpot on low for 4 hours until hot and melted.