Due to its ability to improve weight loss and boost energy levels, MCT Oil has become a favorite among Keto Dieters. This supplement quickly converts into ketones which increases energy expenditure and leads to fewer calories stored as fat.[*]
MCT Oil makes it easier to stay in ketosis because it provides a quick source of ketones (which can also help with avoiding the Keto flu!) and can be easily added to many meals and beverages, such as salads, smoothies, and coffee.  
In this Keto Beginner's Series, you'll learn what MCT Oil is, how it works, and how it can bring your Keto experience to the next level. 
What is MCT Oil and How Does It Work?
"Medium Chain Triglyceride Oil" doesn't have much of a ring to it, so it's frequently abbreviated to MCT Oil. 
To get a better understanding of what MCT Oil is, it's helpful to understand the following terms:
1) Free Fatty Acids
Fat molecules that contain chains of carbon atoms. Fatty acids are categorized based on how long their carbon chain is.
2) Medium Chain Fatty Acids (MCFA)
Fatty acids that are 6-12 carbons in length. 
3) Triglycerides
Molecules with 3 fatty acids attached to a glycerol "backbone". This is typically how fats are naturally found in food. The digestive system breaks apart the free fatty acids from the glycerol backbone so that you have glycerol and 3 free fatty acids ready for absorption by the small intestine.  
4) Medium Chain Triglycerides (MCTs)
Triglycerides that specifically have three medium-chain fatty acids (MCFAs) attached to them. 
In addition, it's helpful to understand that the number of carbons has an impact on how the fatty acid is absorbed and used by the body. 
Most commonly, this highly beneficial supplement is derived from coconut oil. However, MCTs are also found in other foods, including dairy products and palm oil. 
Now, you're probably wondering what sets MCT Oil apart from other fats that are commonly found in your favorite foods.
While long-chain fatty acids are typically made of 14 to 24 carbon atoms, medium-chain fatty acids are made up of just 6 to 12 carbon atoms. 
Remember, the length of the carbon chain impacts how it's used in the body. The shorter length gives MCFAs the unique ability to quickly cross from the digestive system into blood circulation and right to the liver. Once in the liver, they can be quickly converted into energy.
MCTs have been shown to increase dietary induced thermogenesis (DIT), which is the heat produced by burning calories.[*] Higher DIT means more calories burned and fewer calories left over for storage. This is good news for our Keto Dieters who are trying to lose fat mass![*]
Long-chain fatty acids, typically found in animal-based fats, have a far more roundabout path to take before being used as energy. LCTs are not as thermogenic as MCTs, and they are more likely to be stored as fat.[*]
What are the Benefits of MCT Oil?
From increased energy to improved weight loss, there are plenty of ways MCT Oil can supercharge your health. Research has shown that supplementing your diet with MCT Oil can lead to the following health benefits:
Enhances Brain Function
Studies suggest that ketones are a more efficient source of energy for the brain than glucose. Furthermore, research has demonstrated that mental clarity and focus improve with a Ketogenic meal. These results have been found in cognitively healthy people, and may even improve in those with dementia and Alzheimer's![*,*,*]
Improves Weight Loss
MCT Oil can provides multiple benefits that all, ultimately, contribute to weight loss.
Store Less Fat
If you're starting out on your weight loss journey, MCT Oil may be an extremely valuable supplement for you. Your body will use MCT Oil as an instant source of energy so the calories from it are quickly used instead of stored as fat. Additionally, it increases the thermic effect of food, which helps put you in a caloric deficit. This means that you burn more calories from your meal, and store less![*]
Additionally, research has shown that MCT Oil can accelerate weight loss and decrease waist circumference when consumed with a healthy diet.[*] The Ketogenic diet has been shown to help shed that hard-to-lose belly fat! [*]
Decrease Hunger
It also reduces hunger levels! People using MCT oil have been shown to naturally consume fewer calories.[*]
Furthermore, the increase in ketone production that comes from consuming MCT Oil has been shown to suppress the hormone ghrelin, which is the hormone that makes you feel hungry.[*]
Gut Health
There are more bacteria in your gut than there are cells in your body! Scientists are discovering more and more that these bacteria play an important role in how our bodies function. If the wrong bacteria are growing, it could mean some seriously negative health consequences! 
One of these consequences appears to be weight gain and obesity![*,*,*] Altering the composition of gut microbiota may give you the edge you need to shed that excess fat. 
Luckily, MCT Oil has also been found to encourage the growth of healthy bacteria in your gut.[*] Which may be yet another way it can help you reverse that unwanted weight gain.  
Studies have shown that MCT Oil has antifungal and antimicrobial properties. It has been shown to suppress the growth of some serious infectious agents, such as C. diff.,[*] a fungus that causes sepsis,[*] and Candida.[*]
MCT Oil has captured the attention of athletes worldwide for its ability to reduce lactate build up when consumed before intense exercise,[*] which results in greater exercise endurance. It is important to note that the subjects in the cited research were not Keto Dieters, and those looking to improve athletic performance while on the Keto Diet may benefit from checking out our blog on the Cyclical Ketogenic Diet.
Helps Control Blood Sugar
Research has shown that MCT oil may improve insulin sensitivity in people with type 2 diabetes, which helps them control their blood sugar levels.[*]
Effective Energy Source
MCT Oil is one of the most effective supplements Keto-dieters can use to start converting fat into energy. Not only does it improve brain function, but the higher thermogenic effect of MCT Oil has been shown to boost metabolism as well. And unlike most other fat sources, MCT Oil is absorbed and metabolized immediately after consumption. It helps ensure that ketones are readily available, making the transition into ketosis significantly easier.
How Can I Incorporate MCT Oil into My Diet?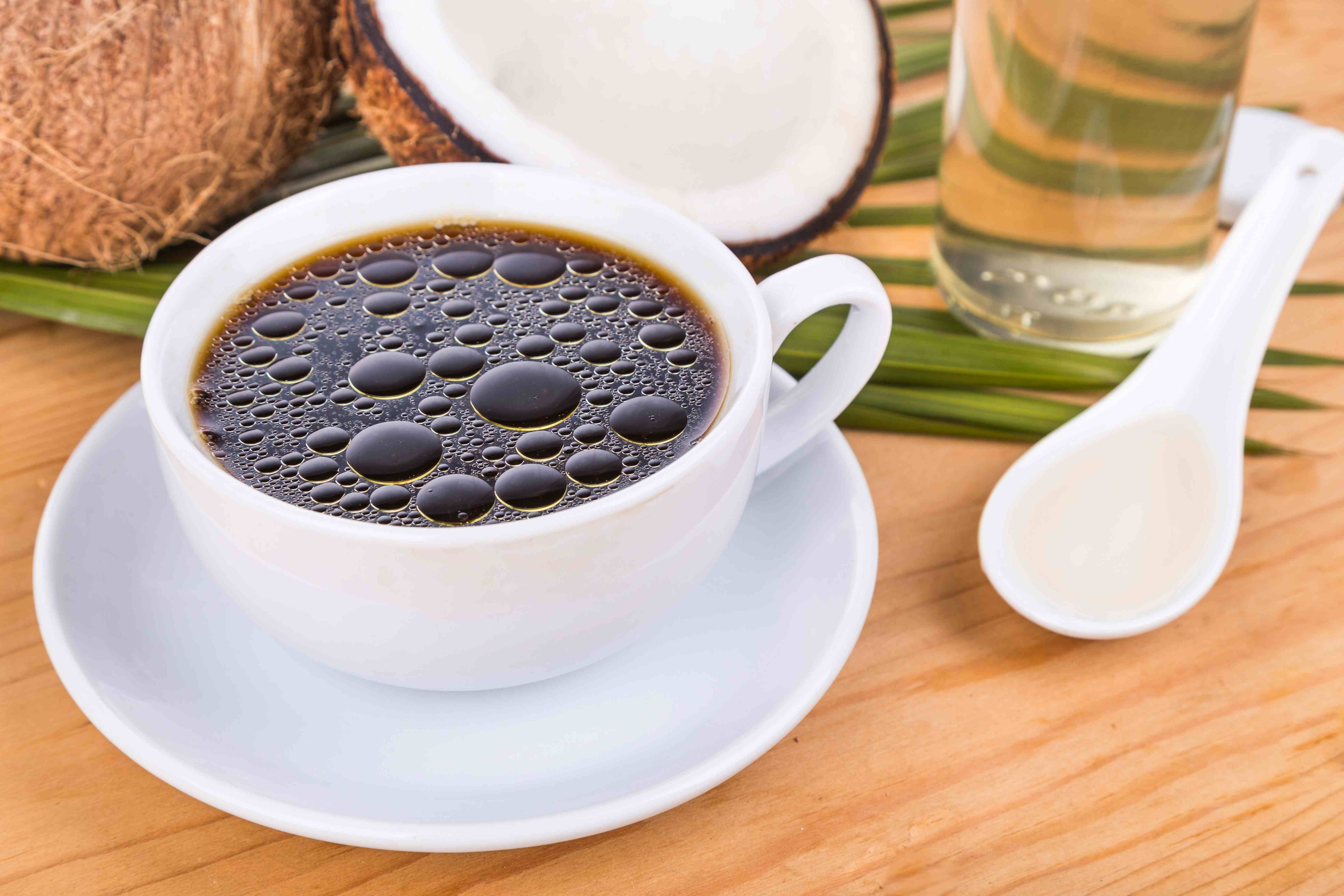 MCT Oils stay liquid at room temperature, which makes them easy to blend with the beverage of your choice. Since they have no taste or smell, the possibilities are endless! Here are just a few ways you can get your daily dose of this highly-beneficial supplement:
Mix it into your morning coffee
Blend it into an afternoon smoothie
Whip it up with your favorite condiments
Stir it up with your pre-workout beverage
What Are the Different Types of MCT Oil?
Although there are many different MCT Oil supplements on the market for you to choose from, there's no need to feel overwhelmed! Once you understand the four main types of MCT Oil, you'll have a much easier time choosing the right supplement for your needs.
The four medium-chain fatty acids (MCFA) in MCT oils are: 

When shopping for the right supplement for your diet, keep in mind that some MCT Oil brands have a higher concentration of a specific MCT strain. For example, Dave Asprey's company Bulletproof Digital has a product called BULLETPROOF® XCT Oil, which only contains two strains of MCT, while many other companies mix all four. By selecting the right blend of MCT strains for your unique needs, you'll unlock the full potential of the Keto diet—and you may even find yourself burning fat at a much higher rate!
MCT Oil: A True Keto Staple
Whether you're trying the Keto diet for the first time or you've been on it for years, MCT Oil possesses research-backed benefits that can improve your quality of life. We hope you enjoyed learning about all of MCT Oil's exciting features—when you get a taste of what this wonder-oil can do, you'll want it to be a staple in your low-carb, high-fat diet forever!
Note: The content in this article is not medical advice and is intended for informational and educational purposes only. Always talk to your doctor before changing your diet.
BULLETPROOF is a registered trademark owned by Bulletproof Digital, Inc.