Sometimes you want a breakfast that's a little more interesting than your typical bacon and eggs. This Middle Eastern Shakshuka combines tomatoes, peppers and onion with warm spices like coriander, turmeric and cumin. Eggs are cracked and baked into the delicious sauce, and then topped with crumbled goat cheese. This is typically enjoyed as a breakfast, but can really be eaten for any meal!
Details
Macros Per Serving
6g Net Carbs
Ingredients
Olive Oil, 3 tablespoon
Red Onions, ¼ cup, chopped
Yellow Bell Pepper, ⅓ pepper, large
Garlic, 2 clove
Spices Coriander Seed, ½ tsp
Spices Turmeric Ground, ½ tsp
Spices Cumin Seed, ¼ tsp
Salt, ½ tbsp
Lemon Juice, ½ tablespoon
Crushed Tomatoes by Jovial, 1 cup
Water, ¼ cup
Egg, 8 large
Parsley Raw, ¼ cup
Cilantro, Raw, Coriander Leaves, ¼ cup
Goat Cheese, 2 ounce
Instructions
1. Preheat the oven to 350 degrees Fahrenheit. Heat the olive oil over medium heat and add the chopped onion and pepper. Saute and stir with a wooden spoon.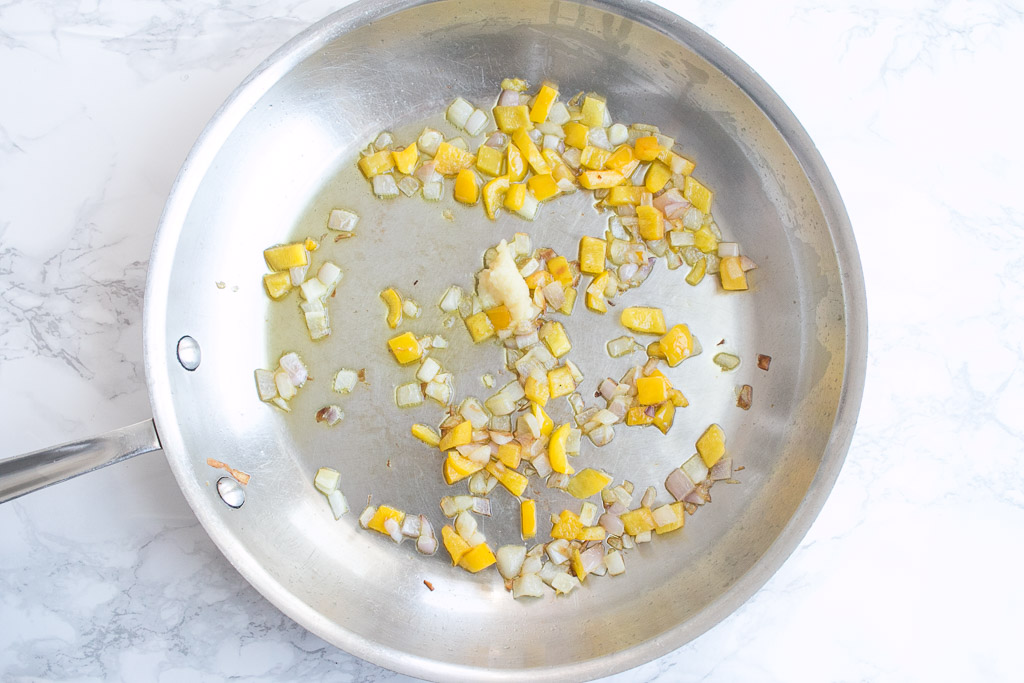 2. Once the vegetables have started to soften, add the minced garlic and allow to cook until fragrant.
3. Add in the crushed tomatoes, coriander, turmeric, cumin, salt and stir to combine. Reduce heat to medium low and allow to simmer for about 5 minutes.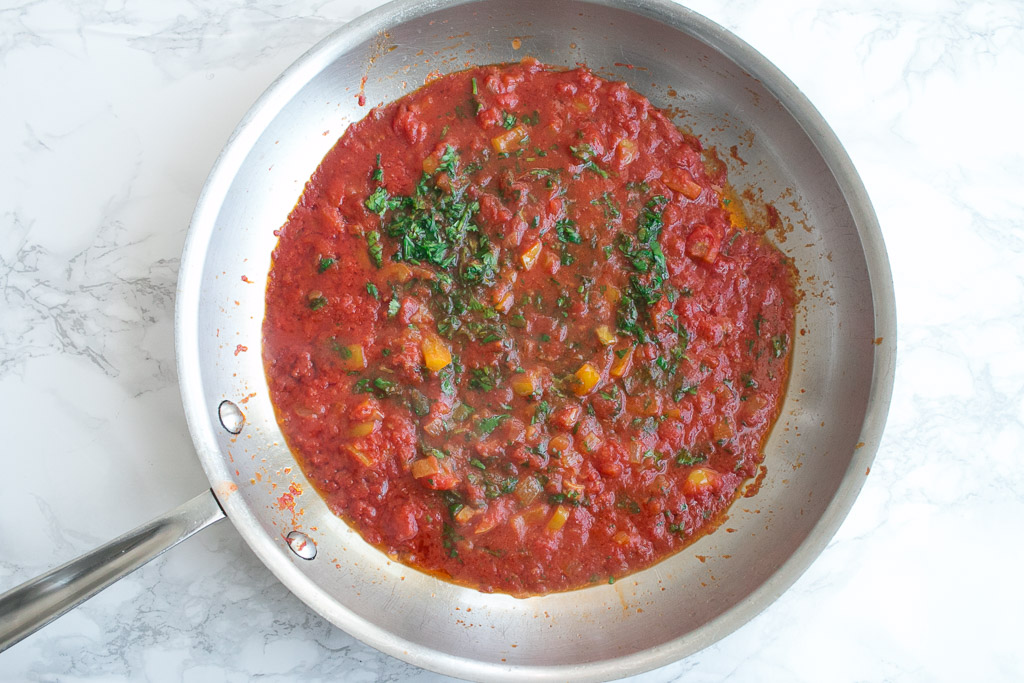 4. Add in the water. Continue to simmer and stir occasionally for another 3-5 minutes. Add the lemon juice and half of the parsley and cilantro.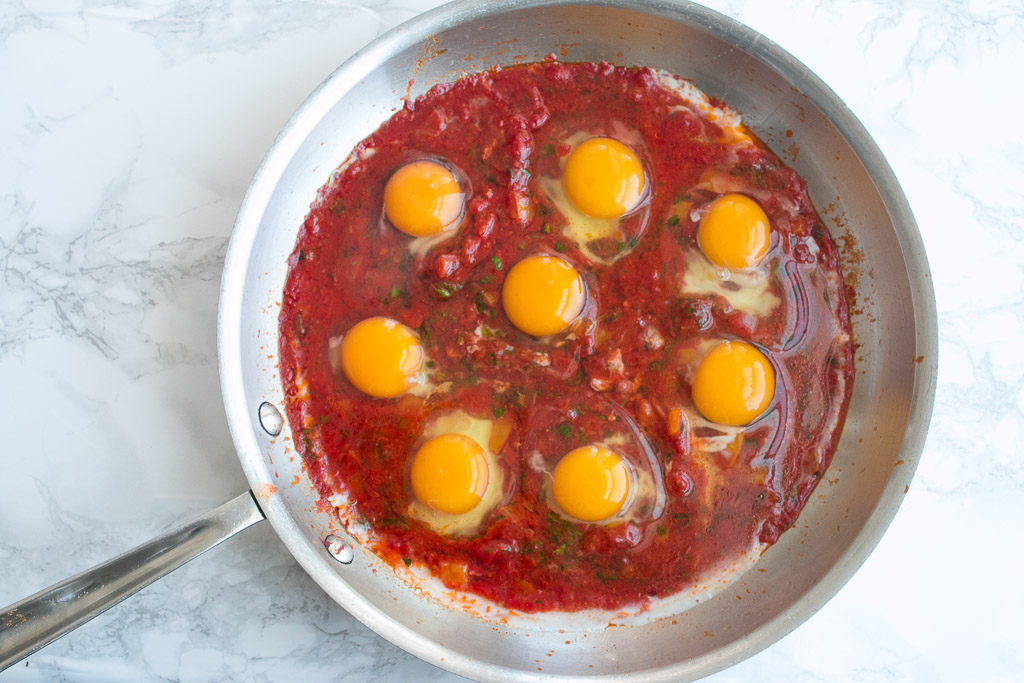 5. Carefully create 8 small wells in the tomato sauce mixture and crack the eggs into them. Once the eggs begin to bubble, remove the pan from the heat and place it in the oven.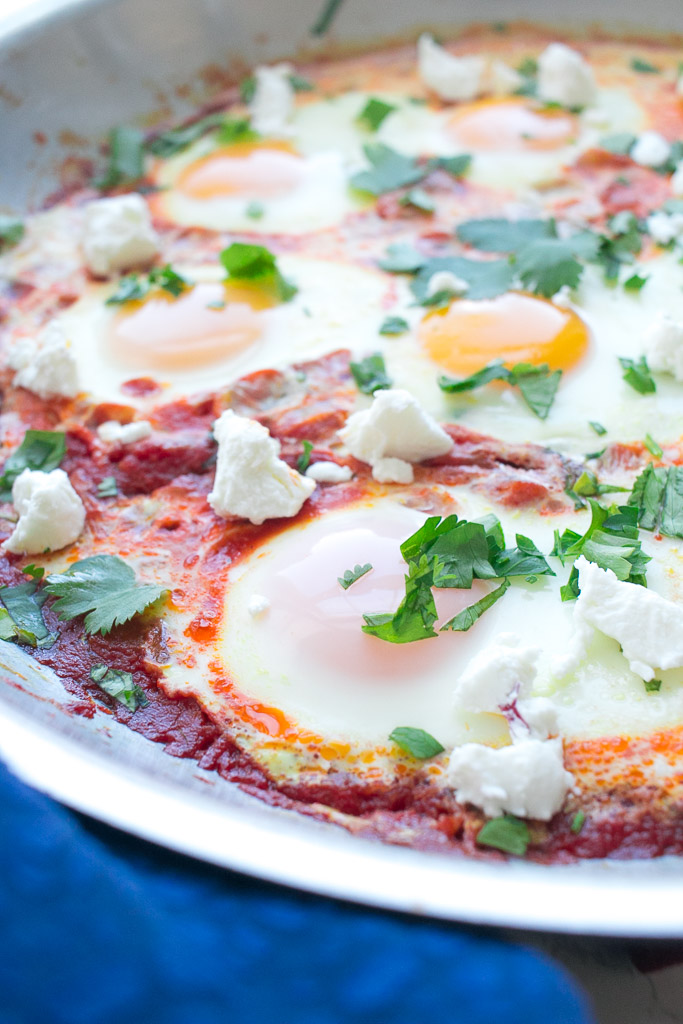 6. Allow the eggs to cook for about 10-12 minutes in the oven, or until the egg whites just set. Remove the pan from the oven and top with crumbled goat cheese and the remaining chopped parsley and cilantro.