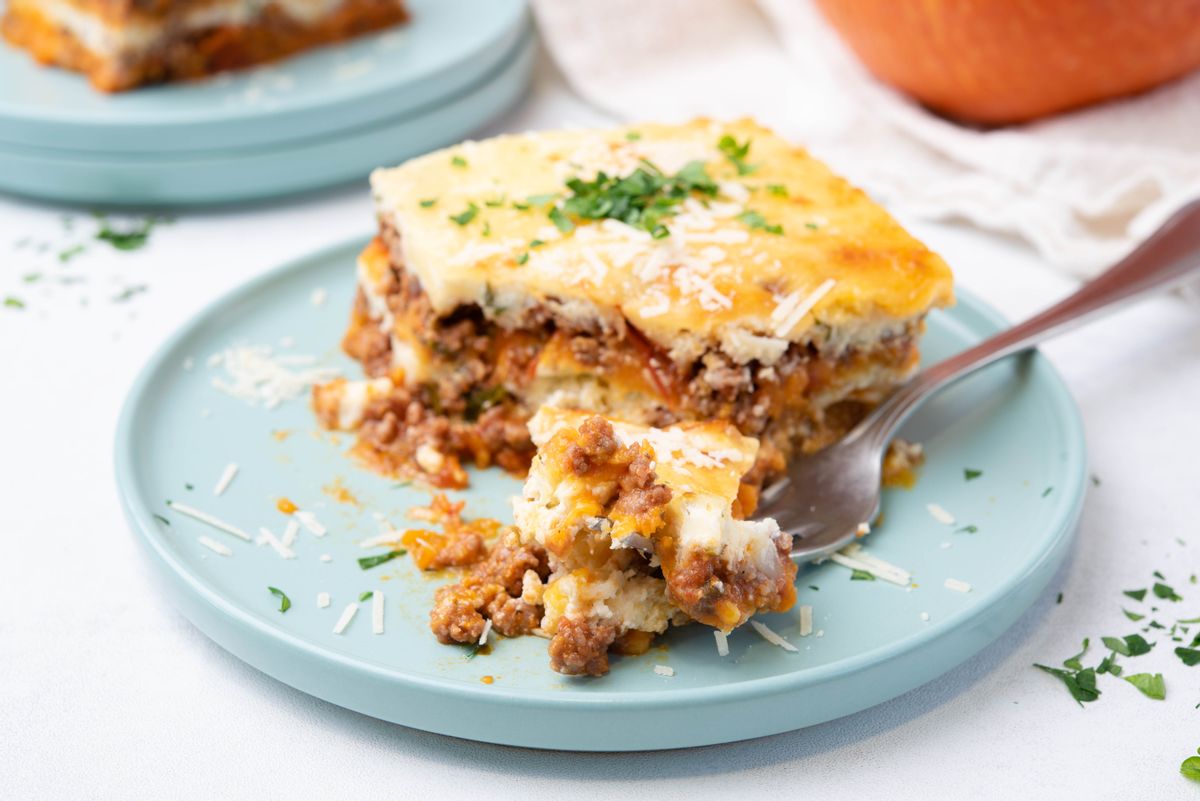 #1 Low Carb & Keto Diet App Since 2010
Track macros, calories, and access top Keto recipes.
30 min

1 h 15 min

1 h 45 min
The Ultimate Keto Pumpkin Lasagna
Lasagna is a classic comfort food we all like to enjoy every once in a while. This recipe will give you all those beautiful flavors you love, but with fewer carbs, so you can easily incorporate it into favorite Keto fall recipes. The pumpkin layer in this wonderful lasagna recipe truly brings out the flavors, and you will be making it in the years to come. This low carb pumpkin lasagna is so deliciously tender and juicy with a crispy cheese crust, making it a perfect family meal. Serve your lasagna with some shredded parmesan, and enjoy!
**Is pumpkin Keto-friendly?
If eaten in the right amount, pumpkin is definitely a Keto-friendly vegetable. Our Keto pumpkin recipes are well-balanced and will keep you within your daily carb limits.
Can I freeze the leftovers?
This lasagna recipe is perfect for preparing in advance and storing in the freezer. Heat it in the oven or in a microwave when ready to serve.
Can I use pork for this recipe?
Ground pork is an excellent option to use instead of beef. You can also combine it with some ground beef - the results will be excellent.
What type of pumpkin puree to use?
You can use store-bought pumpkin puree. However, sometimes the store-bought ones have a little extra sugar, so make sure to read the labels. You can also prepare your own pumpkin puree. Add chunks of cooked pumpkin to a food processor and process until completely smooth.
Net Carbs

5.5 g

Fiber

1.9 g

Total Carbs

8 g

Protein

28.5 g

Fats

21.9 g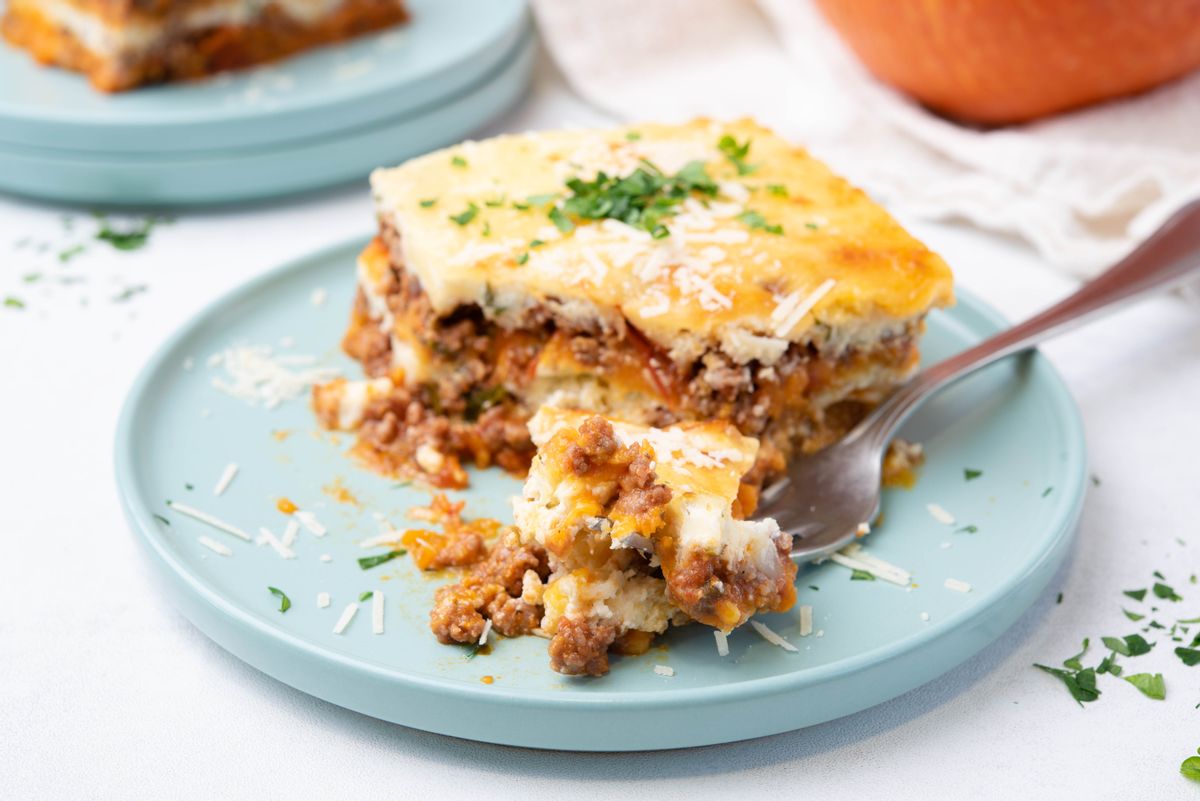 #1 Low Carb & Keto Diet App Since 2010
Track macros, calories, and access top Keto recipes.
Ingredients
EASY KETO MARINARA SAUCE – LOW CARB

0.75 cup

Onion

1 medium - 2 1/2" diameter

Parsley

0.33 cup, chopped

Cheddar cheese, natural

2 cup, shredded

Mozzarella cheese, whole milk

2 cup, shredded

Parmesan cheese, fresh (hard)

0.5 cup, grated

100% Pure Pumpkin Puree

2 cup

Ricotta cheese, whole milk

0.75 cup
Finely dice the onion and garlic. In a large frying pan, heat olive oil over medium heat. Add the onion and garlic. Cook for 4-5 minutes, stirring occasionally.

Add the ground beef and season with salt and pepper. Cover and cook for 5 minutes. Stir occasionally.

Remove the lid from the pan and add half of the Keto marinara sauce. Stir all well and, optionally, season with more salt or pepper. Continue to cook for another 10 minutes. Remove from the heat and set aside.

Combine the ricotta, eggs, parsley, basil, and garlic powder in a large bowl. Mix until fully incorporated. If the mixture is too thick, just leave it at room temperature for 15 minutes.

Preheat the oven to 350°F/175°C. Spread half of the marinara sauce on the bottom of a casserole dish (10x7 inch). Spread one cup of pumpkin puree over the marinara sauce creating an even layer.

Sprinkle one cup of shredded cheddar over the pumpkin layer. Using a spoon or a spatula, gently press the cheddar into the pumpkin layer. Flatten the surface as evenly as possible with a rubber spatula.

Top with half of the ground beef mixture. Sprinkle one cup of shredded mozzarella over the beef layer, then add half of the ricotta mixture. Sprinkle with half of the parmesan cheese.

Repeat with the remaining ingredients, starting with the pumpkin layer and finishing with the ricotta layer. Optionally, add some more shredded mozzarella or cheddar and cover with the lid. Bake for 45 minutes. Remove the lid and continue to bake for another 10 minutes or until golden brown.

Remove from the oven and cool slightly before slicing the lasagna. Cut into 12 equal pieces and serve. Optionally, sprinkle some shredded parmesan or chopped parsley on top. Optionally, serve with Greek yogurt.