We're excited to announce that Carb Manager Premium now fully integrates with BIOSENSE® Breath Ketone Monitor, for seamless ketone monitoring alongside the nutrition and lifestyle tracking you love in Carb Manager.
When you connect your Carb Manager app with your BIOSENSE® device via a few simple clicks, you'll unlock a wealth of information to take your Keto health and weight-loss results to the next-next level like never before.
Read on to learn about the combined benefits of BIOSENSE® + Carb Manager, how to connect your devices, and exclusive promos for Carb Manager users, including a free year of Premium for Carb Manager Basic users* and $20 off a Biosense device for existing Carb Manager Premium members.**
Why BIOSENSE®?
As you may know, testing ketone levels is the only way to know 100% for sure that you're in that sought-after state of nutritional ketosis, burning fat and ketones for fuel instead of carbs, and making progress towards your health and weight-loss goals.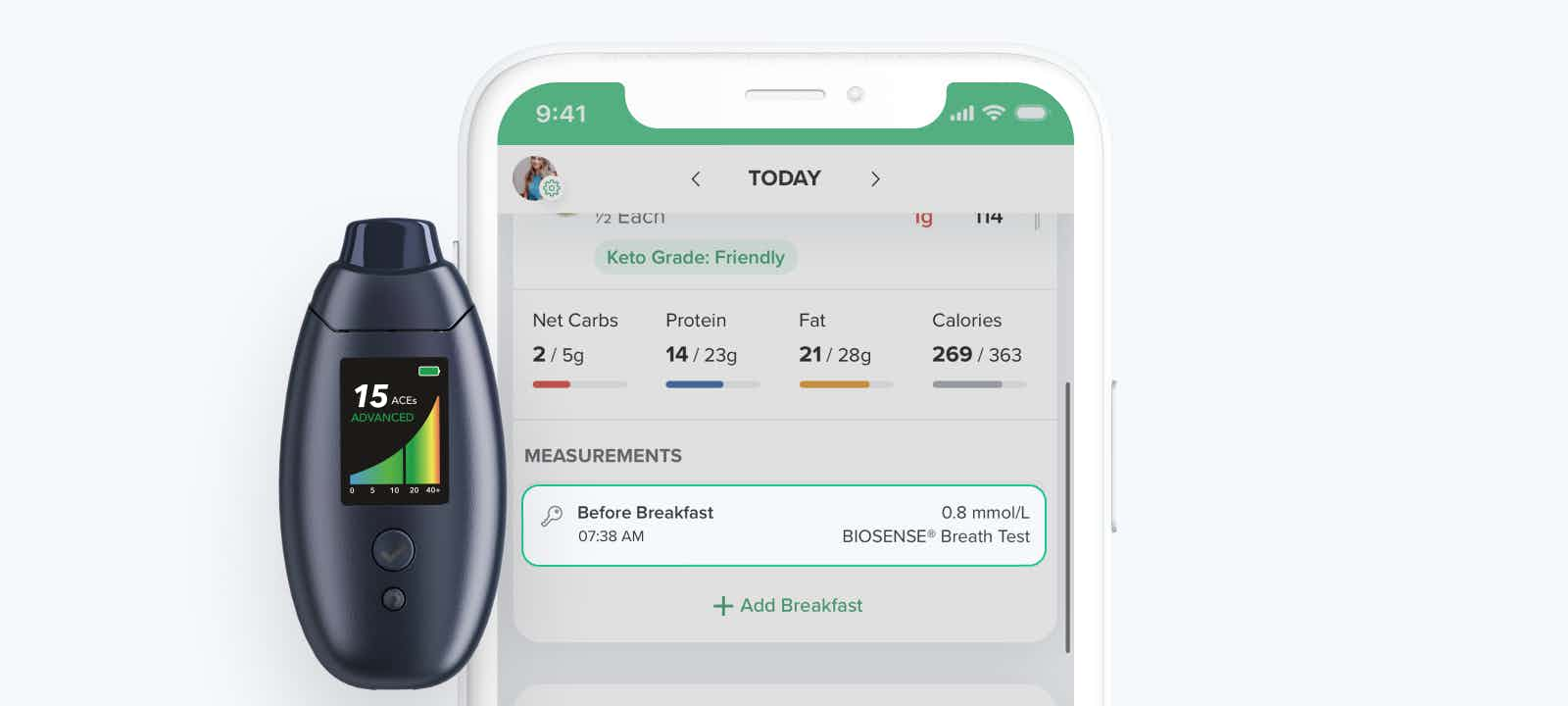 The BIOSENSE® Breath Ketone Monitor uses patented deep lung sampling technology to give you accurate ketone readings with a simple breath test, so you can always, easily know if you're in ketosis with regular testing. No finger pricks, urine strips, or guessing at whether you're burning fat or spinning your wheels on low carb.
Simplified Health and Weight Loss with BIOSENSE® and Carb Manager
When you combine BIOSENSE® breath ketone monitoring with Carb Manager's nutrition + lifestyle tracking, you get a clear picture of exactly which foods and lifestyle factors help you maintain an optimized, fat-burning state of nutritional ketosis—and which ones kick you out of this powerful state.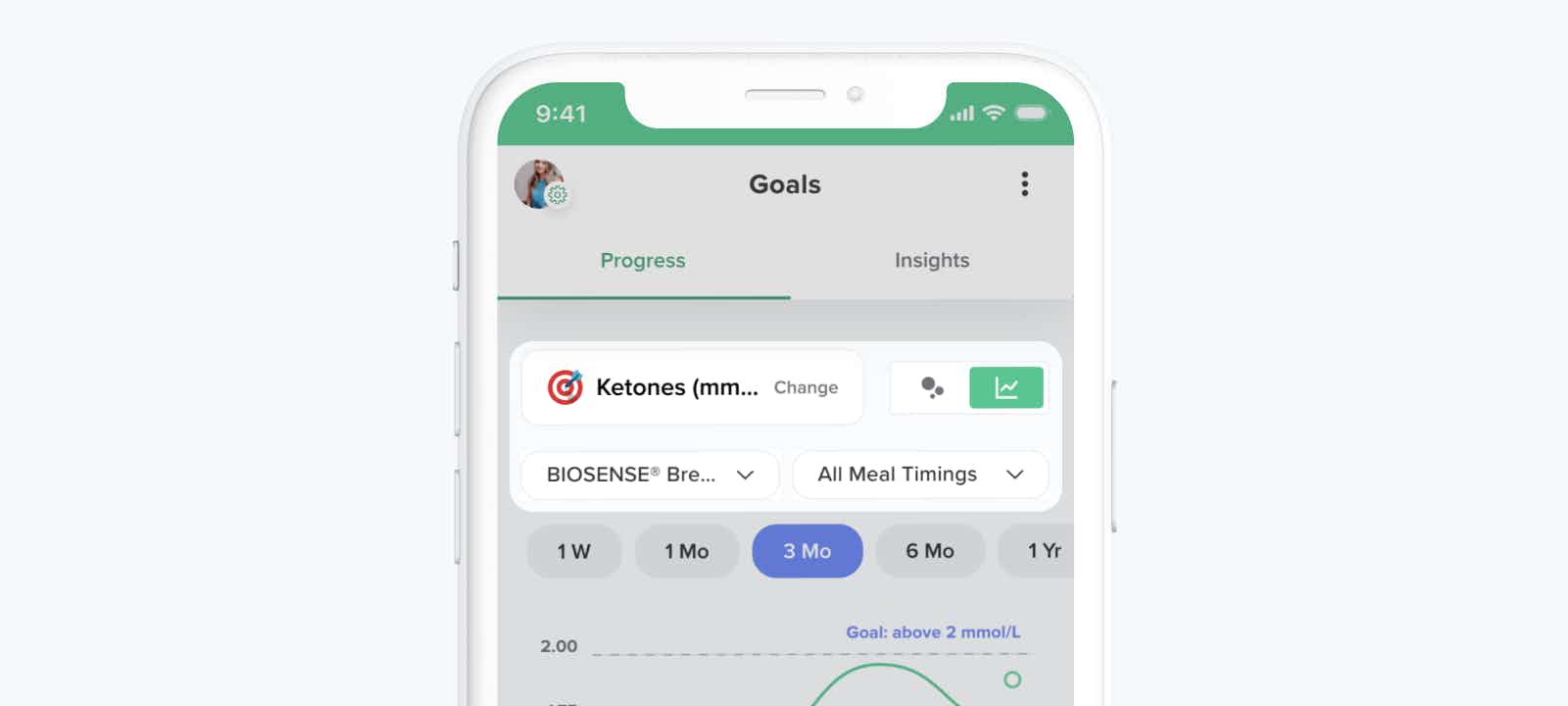 As a Carb Manager user, you already work hard to eat the "right" foods and stick with your macros on the Keto diet. You keep your net carbs within range. Maybe you even practice intermittent fasting. All to maximize fat burning, weight loss, and optimize your health.
When you connect BIOSENSE® to Carb Manager you get real-time feedback that lets you know if those "right" foods are right for you, with an instant ketone-level reading that's as accurate as any blood ketone monitor (and more accurate than other breath monitors.)
Whether you've hit a weight-loss plateau, or you just want to take the guesswork out of Keto and know for sure that you're burning as much fat as you can be — BIOSENSE® + Carb Manager makes it simple.
Connect BIOSENSE® + Carb Manager
Ready to connect your BIOSENSE® device to Carb Manager and start automatically importing those ketone readings?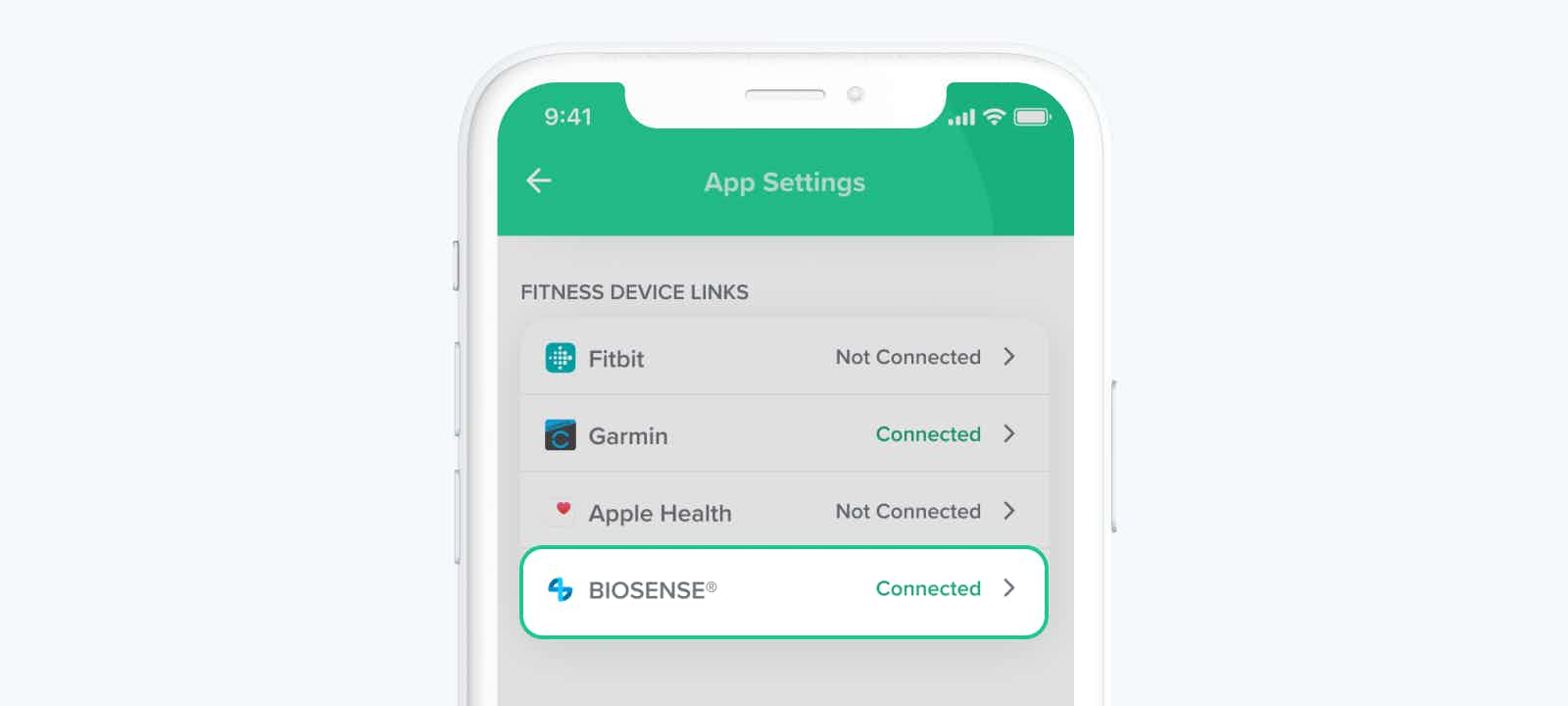 All health and fitness integrations, including BIOSENSE®, can be found in the Carb Manager app via Settings -> App Settings -> Health & Fitness Device Links.
Once there, tap BIOSENSE® and enter your account details to complete the connection.
Then, whenever you take a ketone reading that is synced to your BIOSENSE® account, the data will automatically import into your Carb Manager app. 
Moving forward, this data can be viewed in-app under Goals -> Health Measurements.
Need help getting connected?
Click here for a full tutorial on how to connect BIOSENSE® to Carb Manager. If you still have questions or require troubleshooting, don't hesitate to reach out to our friendly Support team in-app via Settings -> Help & Support.
Exclusive Discounts for Carb Manager Members
To celebrate this integration we've partnered with BIOSENSE® to offer Carb Manager members an exclusive, limited-time promotion!
Carb Manager Basic users: Click here to score a free year of Carb Manager Premium when you purchase a BIOSENSE® device*
Carb Manager Premium users: Click here to get $20 off a Biosense device**
*Offer valid for new Carb Manager Premium subscriptions only. May not be applied to existing Carb Manager Premium subscriptions.
**Enter code CM20 at checkout to claim your discount