In case you missed it—we just published our first cookbook 🎉
Carb Manager's Keto Diet Cookbook is a great compliment to the Carb Manager app, and includes 101 Keto-diet-approved recipes created by our co-founder Mandy Davis and team of trusty test kitchen chefs. The recipes were created so that any home cook can master them with ease (even if you don't consider yourself a "cook.") 
Our goal with the book was simple: make Keto health and weight-loss easier than ever. Probably not a surprise, since that's our whole philosophy behind the Carb Manager app, too 😉
Mandy is a chef—and a mom—so she knows a thing or two about making healthy food delicious, as well as time-conscious.
Inside Carb Manager's Keto Diet Cookbook you'll find:
101 simple, delicious, easy to follow recipes including breakfasts, lunches and dinners, salty snacks and sweet treats, tasty fat-fueled beverages, and everything from quick, family-friendly weeknight dinners and meal-prep ideas to meals fit for a special occasion.
QR tracking codes for each recipe so you can log your daily macros in Carb Manager with a quick scan
At-a-glance net-carb, fat, protein macros + calories per-serving for each recipe
A Keto FAQ with our Nutritionist Anthony O'Neill, PhD to get you up to speed on the health benefits of Keto
A Q&A with our Keto Coach Anna Dornier, to set you up for easy success with your Keto lifestyle and troubleshoot common issues you may encounter
Keto Pantry Staples list to get you stocked up for Keto success
Menu ideas for combining dishes, and a sample 3-Day Meal Plan to inspire and simplify your Keto life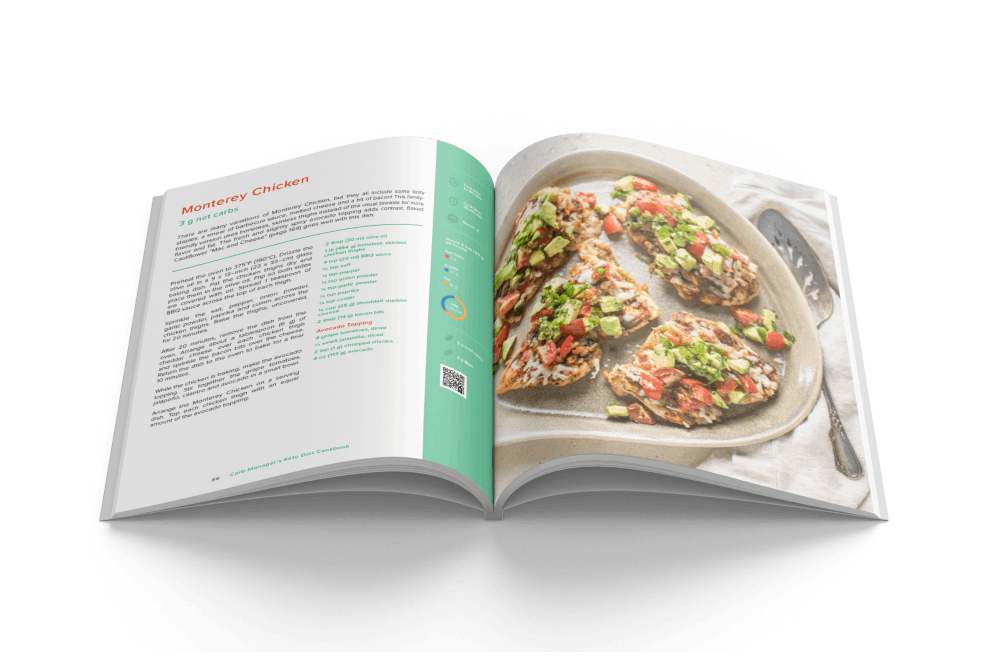 While you'll find a handful of classic Carb Manager Premium recipes in the book, over 90 of these recipes are book exclusives and can only be found in the book, or in-app when you scan the unique QR code to unlock them.
Including:
Prosciutto and Parmesan Tagliatelle
Chicken Burrito Bowls with Lime Crema
Spicy Korean Short Ribs with Crispy Cabbage
Crispy Tofu Bowl
Gado-Gado Salad
Baked Cauliflower Mac and Cheese
Cheesy Bread Sticks
Hazelnut Truffle Fat Bombs
Mini Chai-Spiced Cheesecakes
Ice cream, cakes, salads, easy meal-prep bowls, and more!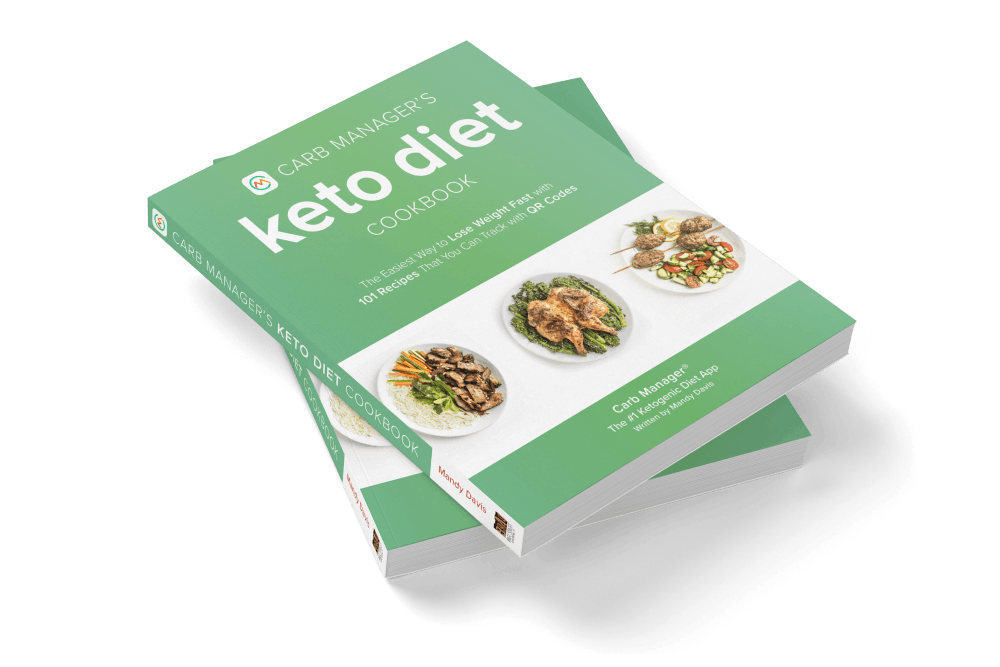 With the Carb Manager app in your pocket and Carb Manager's Keto Diet Cookbook on your kitchen counter, you'll be set up to hit all your Keto health and weight-loss goals.
Meal planning is one of our favorite pro-tips for Keto diet success, and the Keto Diet Cookbook makes it easy to choose meals, snacks, and even freezer-friendly meals to prep ahead so you're never caught out without a macro-friendly meal.
Premium members can even include recipes from the cookbook in customized meal plans inside the Carb Manager app.
This is a great book for following a Keto lifestyle the right way. I like how they focus on nutrient-dense whole foods, and the QR codes make tracking easy in the app.

Carb Manager's Keto Diet Cookbook is packed with over 100 of the best Keto recipes for any dish your heart desires. It will streamline your Keto journey for ultimate success.

Buy Carb Manager's Keto Diet Cookbook Today